Steelers' 2022 Rookies Partner with Legend Mel Blount To Inspire and Give Back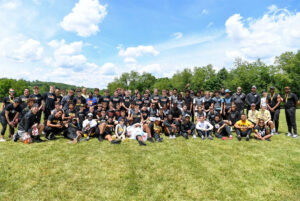 The Pittsburgh Steelers mean a lot to many people, but especially the community in Pittsburgh and surrounding areas, and especially to the youth. The team partnered with Steelers' legend and NFL Hall of Famer, Mel Blount for a day of giving back to the community on Friday. The Steelers' 2022 rookies got a chance to visit the Mel Blount Youth Home in Claysville, Pennsylvania, participating in a program through the Mel Blount Youth Leadership Initiative as Steelers' rookies have done so in years past.
"It meant a lot," Kenny Pickett said. "I came out here my freshman year at Pitt. To come out here as a rookie, came full circle. It was awesome to be out here with the guys and play some football, tell some stories.
"I think it's awesome Mel stays involved with the organization and the guys give back. The whole rookie class was great today. Huge shoutout to the kids that came out. We had a blast with them. A lot of laughs. Went through a lot of drills, had some fun at the end. Had a good lunch conversation with the kids. It was a great day overall."